Health Care Services
Gravelbourg is a member of the Five Hills Health Region and is proud to offer a variety of health care services to the community and surrounding area.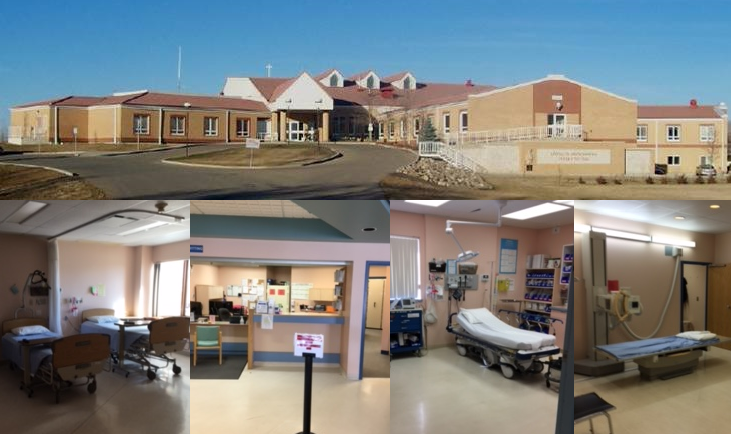 St. Joseph's Hospital/Foyer d'Youville
216 Bettez St (Main Entrance at 1st Ave West)
PH: 306-648-3185
The modern St. Joseph's Hospital/Foyer d'Youville is a fully accredited integrated facility.
Primary Services:
Emergency 24/7
General medical inpatient care (9 beds)
Outpatient services
Diagnostic services - radiology, laboratory and electrocardiography
Respite care
Outreach programs
Palliative care
Convalescent care
Long-term care (49 beds)
3 doctors
Additional Services:
Melody Telorobotic Ultrasound Clinic
Office Hours: Tuesdays 8:00 am - 4:30 pm
PH: 306-648-3185 x 1232
Bookings for the following services take place through your Physician/Nurse Practitioner:
abdomen
pelvic
renal/bladder
obstetric (1st & 3rd trimester)
The Melody Telerobotic Ultrasound Research project provides access to ultrasonography services at St. Joseph's hospital in Gravelbourg, SK. From more information about the project, please go here.
Community Health Services

Gravelbourg Public Health Nurses provide the following services:
Health promotion and education
Prenatal classes
Immunization
Parenting classes
Health assessments
Screening programs
Communicable disease follow-up
Counselling and support for families and individuals
Identification of community needs and coordination of services
Local residents also benefit from the services of a Dental Health Educator, a Nutritionist, a Public Health Inspector, a Mental Health Social Worker and an Addictions Worker. Numerous services are also available on a referral basis, such as:
Community Therapist
Speech-Language Pathologist
Audiologist
Podiatrist
Early Childhood Psychiatrist
For more information contact the Public Health Office at (306) 648-1400.
Physicians
Gravelbourg is fortunate to have three doctors working in the community.
For more information contact the medical office of Dr. Larita Ramlakhan and Dr. Intheran Pillay at (306) 648-4505 or Dr. Afkham Mousavi at (306) 648-1600.
Primary Health Care Centres
There are two additional Primary Health Care Centres located within 30 minutes of Gravelbourg in Lafleche (Tuesdays & Thursdays) and Mossbank (Mondays & Wednesdays).
For Appointments at either clinic, please direct your call accordingly:
Nurse Practitioner:
306-354-2300
Public Health Nurse:
306-642-2200
Physiotherapist:
306-694-0201
Diabetes Clinics:
306-694-0230
Mental Health & Addictions:
1-877-564-0543 or 306-691-6464
Lafleche Primary Care | 315 Main St.

Mossbank Primary Care | 201 3rd Ave W

Medical Transportation
Gravelbourg Cares Shuttle Service
PH: (306) 650-7333
Gravelbourg Cares is a non-profit, customer focused, non-emergency, wellness shuttle service providing punctual, courteous round trip transportation for persons of all ages requiring medical services not available in our home community. Gravelbourg cares offers shuttle from Gravelbourg to Moose Jaw, Swift Current, Assiniboia and Regina.
For more information, check out their brochure or visit their Facebook page for more information.
Gravelbourg Cares is supported by community members and local businesses. If you would like to volunteer your time, offer sponsorship, become a driver, or make a donation, please give them a call!
Ambulance
A 24-hour, two-ambulance service operates from Gravelbourg and operates within a 60-km radius of town. The service includes 3 full-time EMT's and 8 part-time staff.

Patient transfers to hospitals in Moose Jaw and Regina are also undertaken.

For more information contact (306) 648-3185.
Mental Healthcare
Rapid Access Counselling (RAC)
Moose Jaw Family Services hosts free counselling clinics at the Town Office (209 Main St. 2nd floor) every Tuesday from 9 am -12 pm and 1 pm - 5 pm. The clinic is open to anyone ages 10 years and older needing mental health support on a drop in or appointment basis.
Please visit the Moose Jaw Family Services website for more information. To book an appointment email rac@mjfamilyservices.ca, phone (306) 630-8325/(306) 630-8043 or visit www.counsellingconnectsask.ca.
Alcoholics Anonymous
Tuesdays at 8:00 pm
Maillard Cultural Centre
133 5th Avenue E
Room 203 (Basement)
Dental Services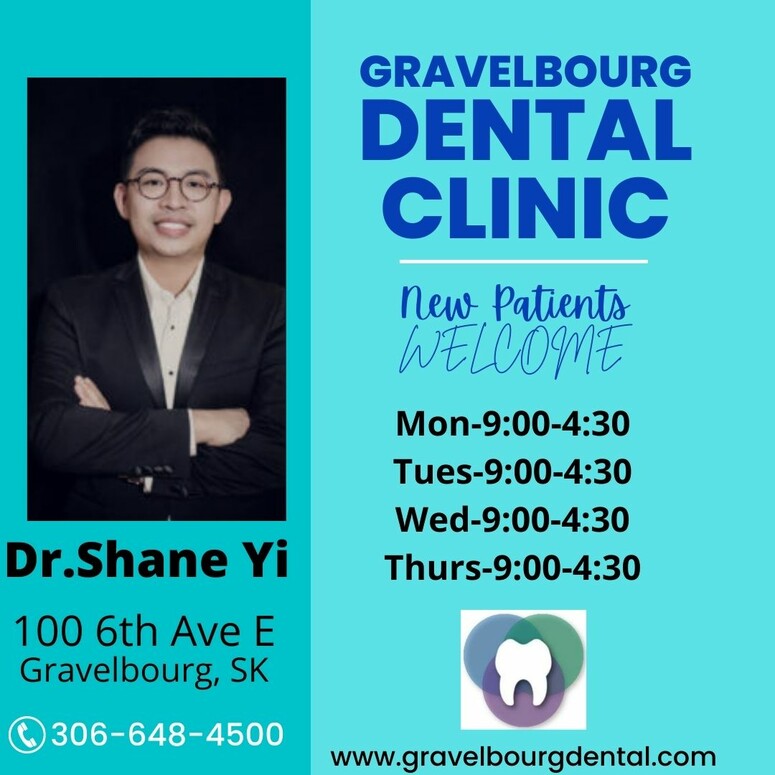 Gravelbourg Dental | 100 6 Ave E
Providing quality dental care for Gravelbourg and the surrounding area since 2014. Visit their website or call (306) 648-4500 to book an appointment.
Gravelbourg & District Food Bank


Please contact Sheryl Cooper at 306-648-8150 to arrange food bank services or to make a donation.
Personal Services
Balance Body Therapy| 114 6th Ave W
Christal DeCap, Registered Massage Therapist
Phone: 306-472-7657
Online Booking: https://balancebody.janeapp.com/
Central Avenue Physiotherapy | 619 Main St
Offers therapy in Gravelbourg one day per week. For more information contact (306) 773-8313 or visit their website.
Gravelbourg Massage Therapy | 514 Main St
Robert Myles
Phone: 306-648-2824
Wildflower Lymphatic Therapy | 318 Main St
Erica Waldenberger, CMLD & CDT
Phone: 306-630-6210
Website: www.wildflowerlymphatics.com
Gravelbourg Bon Ami Inc.
Gravelbourg Bon Ami Inc. provides an Activity Program that offers a combination quality of life component and long-term employment/job training component, a SARCAN depot and recently a Paint and SWEEP Recycling Program. They also operate a Group Home and Supportive Living Program. Staff and volunteers participate in regular garage sales as part of their fundraising initiatives.
HOURS OF OPERATION

IPI
Monday to Friday

8:30 a.m. - 4:00 p.m.
SARCAN
Tuesday to Saturday
9:30 a.m. - 5:00 p.m.
For more information contact (306) 648-3166.